Foreign ministry calls move political 'smear' on virus policy
U.S.-China tensions worsened over differing pandemic policies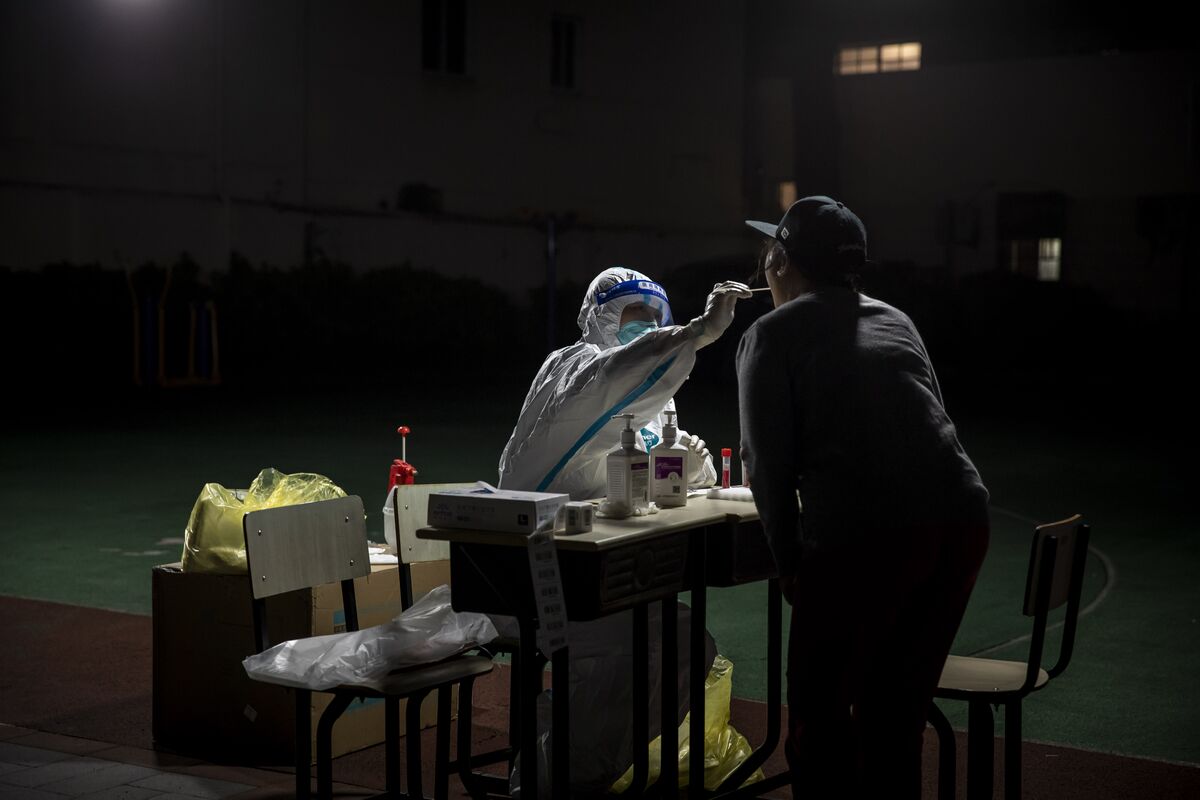 China's Covid Outbreak Worsens as Shanghai Cases Top 26,000
China's Covid Outbreak Worsens as Shanghai Cases Top 26,000
Bloomberg News
April 12, 2022, 6:30 AM GMT+6Updated onApril 12, 2022, 3:53 PM GMT+6
Listen to this article
4:36
Share this article
In this article
1438332D
EAST CHINA NORMAL UNIVERSITY
Private Company
The U.S. ordered all non-emergency staff at its Shanghai consulate to leave China, drawing a rebuke from Beijing and generating criticism even from Americans in the locked-down financial hub.
The State Department ordered the departures Monday, according to a post on its website, as most of Shanghai's 25 million residents were restricted to their homes for at least two weeks. Anger has risen over food shortages, the inability to access medical care and even pet killings.
Still, the U.S. move comes as Shanghai's government eases some restrictions and residents are reporting greater access to supplies, raising questions about the timing of the announcement. Relations between the U.S. and China have worsened in recent weeks, with both sides viewing Russia's war in Ukraine as part of a larger geopolitical tussle between the world's biggest economies.
The pandemic has been particularly sensitive for both sides. Former President Donald Trump vilified China in 2020 for spreading the virus around the world, prompting Beijing to push disinformation about the origin of the virus and tout its Covid Zero approach as superior to the U.S.'s in saving lives.
"Many Americans in Shanghai were dismayed to hear of the previous consulate staff departures given the current situation," said Josef Gregory Mahoney, a professor of politics and international relations at East China Normal University in Shanghai, referring to an earlier announcement that staff could leave.
Sponsored Content
Charting a Path to Net Zero in Asia Pacific
Mitsubishi Heavy Industries Group
"This new order will certainly increase the impression that the situation is worsening despite indications to the contrary, or that this is political posturing on behalf of the U.S., or that consulate staff — who are already rather privileged — are unable to stomach the inconveniences that others are required to endure."
Shanghai's Covid outbreak:
Shanghai Residents Remain Largely Locked Down Despite Easing
Shanghai Lockdown Risks Becoming Biggest Crisis of Xi's Tenure
Lockdown Anger in Shanghai Won't Fade Anytime Soon: Adam Minter
Why China Is Sticking With Its 'Covid Zero' Strategy
Shanghai is struggling to stop transmission in the worst Covid outbreak in China in two years, with control measures weighing on the world's second-largest economy and beginning to disrupt global supply chains. There were 23,342 cases in the city Monday, a drop from Sunday's record, but still up from about 5,000 just two weeks ago.
Beijing saw the U.S. decision as political, with Foreign Ministry spokesman Zhao Lijian accusing the Biden administration of "attacking and smearing" China. He said channels of communication between the countries were unimpeded and China was providing "assistance and convenience" to foreign diplomatic staff in accordance with international conventions.
"China is strongly dissatisfied with and firmly opposed to the U.S. politicizing and instrumentalizing the evacuation," Zhao said. "The U.S. side should immediately stop attacking China's epidemic prevention policies and making political maneuvering under the pretext of the epidemic."
Shanghai Residents Remain Largely Under Lockdown Despite Easing
The latest U.S. order came days after Washington said all non-emergency employees and their family members from the consulate in Shanghai were allowed to leave, and told Americans to reconsider travel to China due to what it calls an "arbitrary enforcement" of virus restrictions.
"Our change in posture reflects our assessment that it is best for our employees and their families to be reduced in number and our operations to be scaled down as we deal with the changing circumstances on the ground," a U.S. Embassy spokesperson said in a statement Tuesday, noting that staffers and their relatives would leave on commercial flights.
"The United States has no higher priority than the safety and security of U.S. citizens overseas, including Mission China's personnel and their families," the spokesperson added.
The U.S. ambassador to China, Nicholas Burns, and other officials have raised concerns about the safety and welfare of American citizens in the country with Chinese officials, the spokesperson said, and informed Beijing of the departure order that will be reviewed in 30-day intervals.
Concerns over access to food and medical care were key drivers of the decision, according to a former U.S. official familiar with the situation. There was also a worry that the situation could worsen if other cities in the region went into lockdown, making it harder for people to leave China in the future.
Bloomberg;
The formal official added that the decision won't affect the bilateral relationship, even though the Chinese government may not like it.
Sources;
https://www.bloomberg.com/news/articles/2022-04-12/u-s-tells-non-essential-government-workers-to-leave-shanghai